Agricultural Buildings
Agricultural Buildings, Farm Sheds & Barns
Capital Steel Buildings are the UK's leading supplier of steel buildings. Working within the agricultural industry for many years, we have built a solid reputation for supplying robust and durable steel structures, designed for many uses and to stand the test of time.
Fully Engineered and UKCA Accredited
All structures are completely engineered to withstand the harshest weather conditions in our country, specific to the site location. It is now a legal requirement for all steel designers to not only be accredited the UKCA mark on the materials, but also the design of the building, and CSB were the first cold rolled supplier in the UK to be accredited that. That is why it is even more important to be choosing an approved supplier such as CSB for your agricultural building.
All agricultural and farm buildings are manufactured here in the UK by UKCA, CE and ISO accredited A. Steadmans & Son (Part of the SIG Group)
Single skin hay sheds, insulated machinery storage and fibre cement roofs
Whether it is a storage shed for machinery and tools, or a shed to house livestock in, CSB will design the building to suit your own requirements. Among CSBs extensive range of farm sheds are equestrian buildings, such as dressage arenas and stables. CSB Farm sheds are also commonly used as cow sheds, tractor/machinery storage, open sided hay sheds, and American barns,
The unique pricing software used by CSB, allows us to price any structure to the exact penny within minutes, allowing quick turn-around times on quotes and orders. Whether it is a simple standard structure or something completely bespoke, CSB can offer you the best package and price.
CSB have many optional extras available to customize your building such as
Industrial roller shutters
Open bays
Lean-to's
Partition walls
Anti-condensation barriers on single skin barriers
Fibre cement cladding
Why Choose CSB for your agricultural building
Full Calculation Packs and Drawings provided for building control and planning
Manufacturer's warranty on all products
Cladding options and additional features
A design tailored to your requirements
All CSB customers have peace of mind that, they have been supplied a strong, robustly engineered structure with warranties provided on all of our products to assure you that your shed will serve you, hassle free, for many years.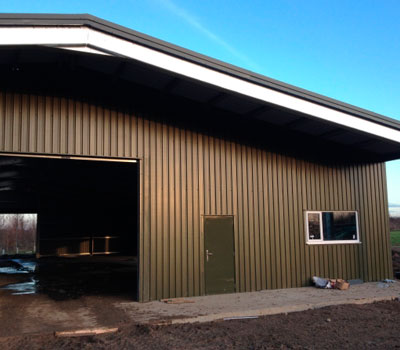 DO YOU WANT TO BECOME
A CSB DISTRIBUTOR?

GET A FREE
QUOTE NOW